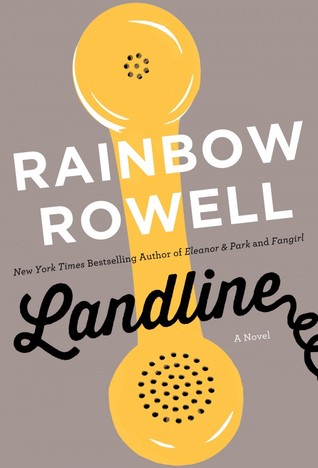 Rating – 4
I honestly didn't know what to expect when I picked up this book.  As a fan of Rowell's work, I expected it to be good, but her work is fairly diverse – sometimes taking on teenagers (Eleanor & Park and Fangirl) while other times tackling adults (Attachments).  When I saw that this book involved a way for the main character to communicate with her husband in the past, I thought it may have become a bit too diverse for me.  I, however, was incorrect.  I should've had more faith in a reliable author.
In this book, we explore Georgie McCool and her life.  She is a successful TV writer who is deeply in love with her husband Neal and her two daughters.  However, things haven't really been happy in their marriage for a while now.  Two days before they are to head to Omaha for Christmas with Neal's family she gets a big break at work and needs to stay in LA to write.  What she doesn't expect is for Neal to take the girls and go without her.
Georgie has always been a bit married to her work, and she is afraid she may have finally messed everything up.  With her family gone, she finally stops to think about her life and what she really wants.  The hole that is left without Neal is more than I think she ever really expected.  However, she discovers a way to communicate with her husband through a phone that seems to call into the past.  Is she really talking to a former version of her husband?  Will she be able to fix things with this?  Should things even be fixed, or would they both be better off if they had never married?
This book is very well written.  It had a great flow to it.  Even while flipping back and forth between the past and present, it was always very easy to follow.  The characters are very relatable.  I loved Georgie even with all of her faults.  There were times I wanted to shake her and tell her to stop moping about and really fix things, but I understood why she felt the way she did as well.  I also found myself rooting for Neal.  While we don't get his point of view, I found myself wanting him to get his happily ever after.  However, I often wanted to shake his present day self.  I mean, seriously, answer your phone!  
The supporting cast was also well written for the most part.  I truly enjoyed Georgie's family.  They added depth to her character as well as some comic relief.  I found myself hating Seth, yet his role was important to the story.  Scotty was really the only character I could've done without.
The story line (other than the phone) was very realistic.  Sometimes, we take for granted the things we have without really even realizing it.  This book left me thinking about my own marriage.  How much have I taken for granted?  Do people really know how I feel about things?  Have I stopped to really evaluate how others in my life are feeling?  Overall, this is an entertaining read.  I definitely recommend giving it a try.